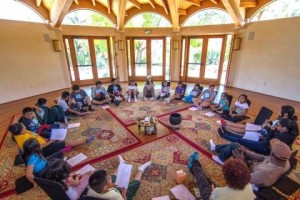 "Council is effective for those who want to move from a hierarchical structure to a partnership model where initiative, responsibility and leadership are shared. Through deepening trust, council supports the clarification of values, co-visioning, and community building." -Jack Zimmerman, 'The Way of Council'
The roots of Council are based in the Iroquois teaching of the 13 arrows and have been found in Homer's Iliad, Quaker and other forms of "meeting". The Way of Council engages the Interactive Field of the circle to bring about heightened perception through devout listening and the four intentions:
1. Speak from the Heart
2. Listen from the Heart
3. Be Lean
4. Be Spontaneous
The Interactive Field is the unseen conductor who knows the music the council is meant to play. The mutually enhancing relationship between the Interactive Field and heightened perception is experienced as the profound inseparability of self-awareness and awareness of others. In recent studies it has been shown that we become Conscious primarily in being aware of others.
"Consciousness is a brain in communication with other brains. One's being is centred not in one's self but in relation to others."* So do we say, All My Relations to call in Consciousness.
Participating in Council teaches us how to let go of personal expectation and become fully attentive to others. Council fosters compassionate response in the form of devout listening, for it is listening that enables a speaker to be authentic. A talking stick is used to invite each participant in the circle to speak, which is encouraged though choosing not to speak in a round is also acceptable.
The Interactive Field of Council provides a continuing source of Wisdom that flows from the wholeness of the circle as the "voice of the circle". Feeling a part of the circle's wholeness reduces the fear and despair of isolation, which allows disagreement to become the bridge to greater mutual understanding.
In these four weeks we will practice several forms of Council appropriate for families, schools, men's/women's groups as well as large community visioning meetings. The intention of this training is to create an informed bi-monthly Council for practice and application in addressing the needs and values of the community as an integrated whole. The Way of Council can also be applied to any kind of meeting.
We meet Tuesdays at 7pm – 8:30pm for 4 weeks.
Your commitment to all 4 weeks is necessary.
Starts January 31st. Preregistration is mandatory and can be arranged through the administration desk at the Salt Spring Island Wellness Centre.
$60 plus tax.
About the Facilitator: The ultimate authority of Council resides in the whole circle. This is not simply as a statement but something Real that is realized through practice and commitment to the Way of Council. As a carrier of Council Ne'ith has 10 years of experience sitting in and facilitating Council, shamanic training and sweat lodge facilitation.