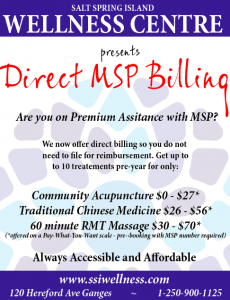 Our mission to provide accessible and affordable care has expanded and we are excited to announce that the Salt Spring Island Wellness Centre is now set up for DIRECT BILLING TO MSP. In combination with our low cost "Pay what you want" scale that offers some registered treatments for $20 – $50, direct billing means that those who are on Premium Assistance with MSP qualify for $23 off up to ten (10) qualifying treatments per calendar year.
COST TO THOSE ON PREMIUM ASSISTANCE:
Community Acupuncture with Alinka, Isabelle or Adam = $0.00 – $27.00
Traditional Chinese Medicine with Adam = $26.00 – $56.00
Registered Massage with Alan Johnson = $30.00 – $76.00
To register for this service all you have to do is call us with your first and last name, and MSP number. Pre-booking for your appointments is required.
We will be adding more registered practitioners in the future so keep in touch and we will let you know when we have additional services covered.
Please share this info with those who you think can benefit from this service.