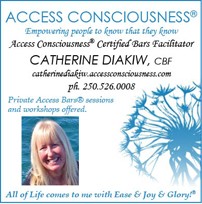 Salt Spring Island, BC, Canada
Unnamed Road
British Columbia
CA
Catherine Diakiw – Access Consciousness Certified Bars® Facilitator
Offers both private Access Bars® sessions and certified workshops.
As a seeker for over 10 years, Access Consciousness® resonated with all my beliefs after much travel, study, workshops and retreats.
Access Bars® – a simple body process that is changing the World, now in over 130 countries and over 2000 practitioners worldwide, contributing to lives for over 25 years.
An effective body process involving touching 32 points on the head to release all limitation keeping you stuck, assisted children and adults overcome fears, stress, self doubt and uncertainty and live from possibility.
Doctors are now realizing that our health is connected to our beliefs and we can change our health and bodies by reprogramming our subconscious mind.
Your point of view creates your reality, your reality doesn't create your point of view. If you choose to release your limiting beliefs you can set yourself FREE and change your LIFE!
An invitation to live in possibilities and outside the box . . . BEYOND the logical mind believes is possible!
Certifications
Access Bars®
Access Bars gives clarity
When I went for my Bars session I was not sure what to expect. Catherine was very forthcoming with her information and made me feel at ease. When I had the session it was extremely relaxing and I found myself drifting in a semi-conscious state that is typical of energy work. As she reached points near my head all of a sudden I was very clear headed and energized. When my session was complete she asked me why I felt that everything had to to be so hard and asked what are the infinite possibilities of my future. Since then I have really adopted this line of thinking and the session not only cleared my blockages but allowed me to see things with a new perspective, which includes opening myself up to things not previously accessed due to my limited "expectations". I have noticed an improvement in my life since then with this new line of thinking. I definitely recommend the sessions for those who seem "stuck" in patterns of life. I will eventually add this training to my own bodywork as the benefits were immediate.
Treatment is focused on the head. The session is relaxing in a physical sense. The results not "tangible" or measurable but very definitely present. I will absolutely do this again in the future.
You must login to post comments