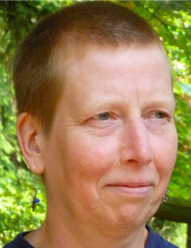 128 Hereford Ave, Salt Spring Island, BC V8K 1T2
128 Hereford Avenue
British Columbia
V8K 2T4
CA
Availability and Locations:
128 Hereford Ave, SSI                                                                         Available Monday to Saturday by Appointment
120 Hereford Ave, SSI                                                                         Tuesday 9-11:30(12:45) Thursday 9-12(:30)
Greater Vancouver Alternating Weekends (1 or 2 days)              Location to be determined at time of booking
Certifications
Certified Reflexology for feet, hands, ears and full body. Approved Reflexology Practitioner with Reflexology of BC. Private Insurance with GSC & SSQ Financial Group.
Petra is very competent at what she does, in all facets of her therapies. She seems intuitive in finding what needs adjustment and makes that adjustment quickly and painlessly. I highly recommend her therapy to anyone who has had medical issues that were considered 'in-operable' by a medical doctor such as when I apparently fractured my back in three places in an accident and was advised by my family doctor that, at best, I'd be in a wheelchair for the duration, And when I blew the cartilage in both knees from running on pavement during my youth — accompanying someone preparing for the Boston Marathon. The sports doctor for the Toronto Argos deemed my knees "as good as they could feel even with operations". This meant pain whenever I crossed my knees or, worse, when I would kneel or attempt to stand from a sitting position using my knees for support. With Petra as my therapist, I no longer have painful issues with my knees nor my back to the degree that I have mastered a martial art under her watchful eye and therapy to keep everything lined up properly. Yes, in my mind Petra is a miracle worker, that's for sure.
Very Effective Energy Work
As an energy worker I have come into contact with many forms of energy work and many people who do energy work. I can say that every time that Petra has worked on me I have felt a difference, which is hard to say with such subtle work. Her skills in Reflexology, Jin Shin Jyutsu® and CranioFacial Reflexology have integrated under the title MindBody Harmonization and it is effective. After an event once I was feeling very overwhelmed and unable to think. She put her hands on my head and I could feel space open up around my head and I felt clear in less than 2 minutes. A full session was very relaxing, her focus on my legs and feet soothing, and typical of energy work I had flashes of life events and "dreams" throughout the session. I highly recommend her. Her passion for her work runs deep in the studies that she does and her experience and knowledge are evident in her sessions.