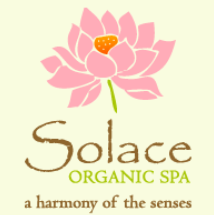 111 Saltair Lane
Salt Spring Island
British Columbia
V8K 1Y5
CA
Aesthetics Retreats Massage
Certified Master Pedicurist (CMP) Acupressure Aromatherapy Bodywork Holistic Skin Treatments Hot Stone Massage Shiatsu Massage Deep Tissue Massage Relaxation Massage Reflexology Spa Services Steam Flower Remedies Formulator Wellness Products Therapeutic Grade Essential Oils Holistic Skin Treatments Yoga Retreats Yoga Private sessions
Soothe body, mind & soul at our all natural, organic spa… a unique salt spring island experience.
Serving Salt Spring Island since 2004
Solace Organic Spa is the boutique day spa and wellness retreat for local and visiting spa enthusiasts seeking exceptional professional massage and spa therapists in natural eCo contemporary surroundings. We offer an array of holistic therapies by some of Salt Spring Island's finest and qualified practitioners. Our focus is on Inner Beauty and Spa as a state of mind and heart for enhanced well-being. Our spa menu offers certified massage, bodywork, acupressure, reflexology, ocean stone massage and facials, aromatherapy, solace facials, salt glows, steam sessions, thalassotherapy body wraps, solace skin care, waxing, tinting, manicures, pedicures and private yoga therapy. Our guests can enjoy our Solace Spa Ritual (infrared sauna and forest hot tub). We also host spa parties and offer couples' massage or side by side services for you to enjoy with a loved one, family member or friend. We offer an overnight private spa retreat and also travel out with mobile spa services.
We compassionately soothe the body, mind and soul by enveloping your being in a sanctuary of solace inspired by nature. Our commitment to your well-being and our environment is honoured with the use of our own Solace Organic body and skin care products using the finest botanicals of Earth and Sea. Our family of qualified professionals are committed to the relaxation, rejuvenation and healing process of our guests, offering a selection of natural aesthetic, therapeutic and holistic services to create balance, harmony, and the most unique natural health spa experience possible.
We specialize in exceptionally skilled therapists ~ wholistic massage, acupressure, therapeutic bodywork and Solace Spa Therapies.
Certifications
Master Pedicurist, Deep Flow Massage, Ocean Stone Therapy, Yoga Instructor, Labour Support and Post Partum Doula, Bodywork, Certified Make Up Artist, Nail Technician and Professional Waxer
Infrared Sauna and Forest Spa
Tina Simpson

reviewed 3 years ago
last edited 3 years ago
I brought my husband and two young children (5 and 3) to Solace Organic Spa to experience the sauna and hot tub after hearing a friend recommend it. We were welcomed very warmly and given a tour of the space we were about to use, making us feel very at home. The space was beautifully decorated, with a natural wood interior and infrared sauna, which proved to provide a very even and relaxing heat compared to a regular steam sauna. The hot tub was stunning in its outdoor setting amongst the tall evergreen trees, flowers so elegantly placed in a simple and "care" full way. Even my children seemed to relax into the soak, which was impressive. It felt very private and we were talking about how wonderful it would be to experience in the dark of night for the retreat or in the chill of the winter rains. Wonderful to be able to add something to our list of things to do with the kids that is not expensive. They loved it as well and asked the next day to return.
Next time we look forward to experiencing some of the spa services (without the kids of course ;)).
You must login to post comments