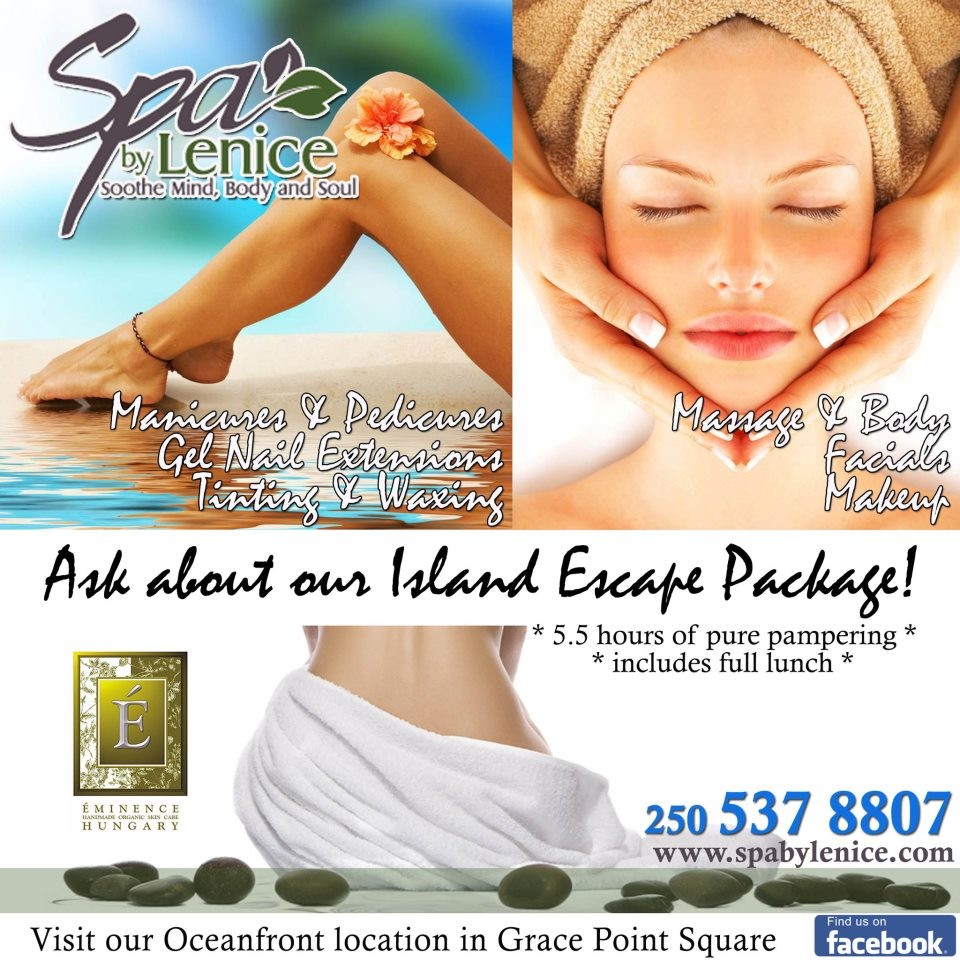 115 Fulford-Ganges Rd, suite 2102, Salt Spring Island, BC, Canada
3106 Grace Pt. Square
British Columbia
V8K 2T9
CA
Down town, Water front.
Retreat to this quiet and peaceful sea side Spa, where you will receive all the care and pampering you will need.
Lenice is now going into her 5th yr in business and going strong.
Lenice has 10 years' experience in the aesthetics field. 30+ years in customer service.
Lenice is also licensed for skincare, Microdermabrasion and certified for Brazilian waxing/ eyelash extensions through Nova Beauty, Victoria, B.C. As well as specialized foot care.
Now with her talented team of therapists, Michelle Haigh who has 20yrs experience and is European trained and Crystaline Hildebrandt who has 6 yrs experience and specializes in Pedicures. Zama Jason who has 10 yrs experience and specializes in Massage. Alan Johnson is a registered massage therapist with 20 yrs experience.
Spa By Lenice is located on a destination Island that caters to both Locals and visitors alike (women and men) who want stress relief and relaxation in a serene atmosphere. It's an ideal place to gather with friends, to celebrate life's milestones, reconnect with a loved one, or to turn to as your very own destination for stress relief and self-renewal. An oasis dedicated to your health and well-being – with 6 treatment rooms for every reason there is to spa.
Whether you come to the spa to ensure that you always look your very best, or your visit is more about stress relief and survival in a busy world, Spa by Lenice is an ideal place to spend a few hours for self-renewal.
With a coffee and juice bar, 6 treatment rooms, and Infrared sauna, we provide comfort, convenience and flexibility to cater to demanding schedules. Guests can be rejuvenated from head to toe.
Lenice is able to offer a full range of Spa services, such as Gel nail extensions/gel polish, Pedicures, Manicures, Facials, Massage Reiki, Reflexology, Indian head massage, Spray tanning, Piercings just to name a few.
The Spa team uses Eminence products which are deliciously natural and there is an excellent range of these products to choose from for home use. The Spa team receives regular training on the Eminence products from their specialists. Do'Terra Pure Essential oils are now integrated in our aromatherapy treatments, Massage, Indian head massage and Reiki and reflexology treatments.
All services are tailored to suit each guest, and using her expertise and experience Lenice has developed several specialized treatments to pamper and please you.
Certifications
Diploma from Blanche Mac Donalds career college 2005
Cozy comfort and real pampering
I have visited Spa by Lenice a few times, and look forward to going back each year. She is refreshing to the soul. Great service, and always on time. The best pedi I have had in a long time, and love the view. The girls are funny and real. And the massage is a must. The prices are competitive and fair. I wish she was on the mainland.
1 of 1 people found the following review helpful
Angela Thomson

reviewed 3 years ago
last edited 3 years ago
Lenice is absolutely amazing at nails! I've been having my nails done since the 80's and she is one of the best. All of the services I have received at the spa have been exemplary, and I regularly take friends with me to enjoy the experience.
1 of 1 people found the following review helpful
Very good RMT massage. Nice atmosphere.