Its hard to believe, the Salt Spring Island Wellness Centre opened its doors just over a year ago, and the transformation of a near vacant, receivership-laden space into the wonderful Hub of Wellness on Salt Spring Island that it now embodies has been amazing.
As the season changes, so to does the ownership of Ganges Yoga Studio. The Salt Spring Island Wellness and Ganges Yoga Studio, which was created and run by Celeste Mallet Jason, are now one (her letter to the community can be found here)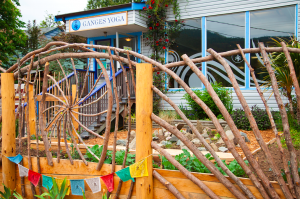 .
As of October 1, the space has been re-opened with some big changes:
Unlimited Yoga Passes will allow students to attend their choice of 27 regular scheduled classes each week.
An additional 13 Special Classes are also available. From Dance to Pre-Natal Yoga, to Crystal Bowl Healing to Mediation to Aikido to Boot Camp. There is a class for everyone.!
Infrared Heat in our Hot Wellness Studio – such a great way to spend some cold winter days in Hot Yoga, Community Acupuncture and other community clinics.
Community Acupuncture is now open late on Thursdays,
Addition of Community body work clinics,
Drop-in B12 Shots and a Naturopathic Medicine Clinic,
RMT Massage
Business Coaching
More $49 pay what you want treatment
Workshop Space for rent
What we still have that you must check out:
Online Event Calendar – post your event or workshop for FREE
Online Practitioner Directory – Free Listings available
Most treatment services offered on Pay-What-You-Want basis
Fully outfitted fitness center and personal trainers 6am-11pm 365 days a year
A permaculture garden and farm stand with our freshest organic vegetables
And we are not done yet. Coming soon,
30 day class challenge
Summer 2015 Teacher Training
More great membership benefits
Stay tuned!
Check out our website www.ssiwellness.com for an up to date schedule, pricing and other news about the amazing things happening at 120 Hereford.
We love you Salt Spring!
From all of us at the Wellness Centre